Facts and interesting tidbits about The Bahamas

About The Bahamas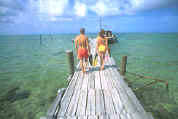 First time visitors to The Islands of The Bahamas quickly realize that they have discovered upon not one, but many possible vacation destinations. Between the "poles" of Grand Bahama and Great Inagua are 23 inhabited islands and thousands of unpopulated islets and cays (pronounced "keys").
Nassau, the capital city, once ruled by pirates, seems a world away from the desert-like wildlife sanctuary of Inagua. On many of the islands, tiny villages seem lifted from the Massachusetts coast and set down amongst palms, pines and iridescent sands. These beautiful islands lie only 50 miles off the Florida coast - far closer than any other destination in the Caribbean .

Calm waters and cooling trade winds have rightfully earned the The Bahamas an international reputation for sailing, with regattas and races held year-round. The islands are actually the birthplace of the Gulf Stream, a phenomenon that also accounts for their astonishing variety and abundance of marine life. Legendary game fish draw sport fisherman in search of the "big one," and more than 50 international fishing records have been set in these waters. The great writer / fisherman Ernest Hemingway considered the Bahamian island of Bimini a home.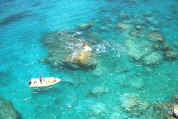 The same conditions that make these islands so amenable to sailors and fisherman draw visitors to the vast and diverse underwater parks. With more than 5% of the planet's reef mass, The Bahamas offer inexhaustible pleasures and challenges to snorkelers and divers. The natural beauty of the water extends to the thousands of miles of shoreline, which has some of the world's most stunningly beautiful and unsullied beaches. From the pink sands of Harbour Island and Eleuthera to the deserted strands of the Exumas and San Salvador, there is a lifetime of beaches to experience. Further inland are gardens and National Parks with rare and endangered species, such as the exotic Abaco Parrot and the Bahamian Iguana.
Although The Bahamas are as diverse and numerous as the days of the year, the reassuring unifier is the charm and hospitality of its people. The Bahamas Ministry of Tourism offers a People-to-People programme; an opportunity for visitors to experience a genuine and informal taste of Bahamian hospitality and culture. Volunteers holding interests similar to yours give you a taste of Bahamian life and potentially a lifelong friendship.

---