Bahamas Vacation Travel: Atlantis Bahamas: Marina Village at Atlantis
Marina Village at Atlantis
The 65,000 square foot development has five restaurants, 21 retail outlets and a collection of carts that showcase the artistry of The Bahamas.
Click on any image for a larger view.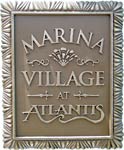 The Marina Village at Atlantis, Paradise Island, Bahamas is an open-air marketplace with three main plazas that are designed to resemble a "quaint" Bahamian settlement.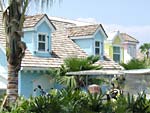 Spectacular collection of retail stores and restaurants.
The 65,000 square foot development, situated at the eastern end of the existing Marina at Atlantis, features five unique restaurants, 21 retail outlets, local entertainment and a collection of carts that showcase the artistry of The Bahamas. The charming and vibrant bazaar provides visitors with an unforgettable and distinctly Bahamian vacation experience.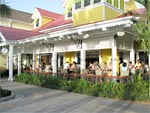 Restaurants include; Cafe Martinique, featuring the gourmet cuisine of French chef Jean Georges Vongerichten; Bimini Road, which features Caribbean dishes and live entertainment against a brightly-coloured backdrop; Carmine's Italian restaurant, a popular New York eatery known for its Italian dishes; Seafire Steakhouse, featuring seared and grilled fare; and Johnny Rockets, a hamburger chain that serves some 22 million hamburgers per year to its patrons worldwide, make up the many dining possibilities at the Marina Village.
In addition to the remarkable dining options available at Marina Village, visitors can explore a shopper's paradise, with 21 boutiques and shops featuring luxury fashion, sports and beachwear, and beautiful handmade crafts from local Bahamian artisans.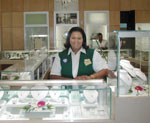 These include The Versace Collection; Dooney & Bourke; Royal Palm, offering the latest styles from Tommy Bahama; the Caribbean's first Starbuck's and Jamba Juice; Paradise Blue Surf Shop, casual beachwear and accessories; The Plait Lady, Bahamian handicrafts;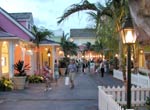 A La Plage French Boutique, upscale French swimwear; Columbian Emeralds International, fine jewelry; Doongalik, artwork and original sculpture; Piranha Joe, casual wear; Calypso Carousel, music boxes; Solomon's Sea Treasures, charms and nautical jewelry; La Perfumerie, perfumes from around the world; Sunglass Shack; Park Lane Jewelers; and more.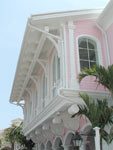 Visitors can be refreshed at the Village Creamery (ice cream parlour) after they've experienced Jamaba Juice, a franchise that specializes in fresh fruit smoothies, hot vegetable soups and nutritious breads.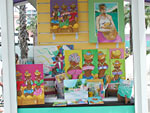 The Marina Village at Atlantis' three main plazas are each defined by unique architecture, paving stones, boldly painted buildings and lush vegetation. An assortment of retail carts in each section features merchandise reflective of the life and energy of the islands.
The carts featured in the plazas also include Crystallix, known for its crystal wares; Completely Nuts; Heymon Graphics, Bahamian prints and handicrafts; and Glorybee, selling local honey.