Discover hidden treasures in waters off The Bahama Islands

Bahamas Hidden Treasures
Over the years, there have been a number of fascinating treasure troves found hidden in Bahamian waters. Back in the 1960's, two Nassau businessmen turned conversation into cash when they discovered silver and coins off the southwestern tip of Great Abaco Island. The booty was traced back to King Philip IV of Spain, and the businessmen pocketed $20,000-worth of good fortune. Every few years, mostly after a new found discovery, there is speculation as to the sunken fortunes that may still lie in Bahamian waters, held secret by the centuries.
Into the Blue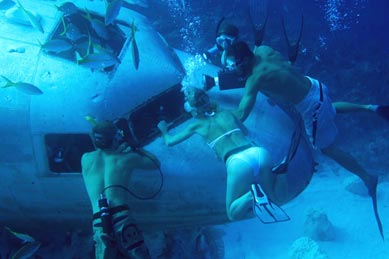 Keeping the treasure hunting fever alive is the new film, due out this month, titled Into The Blue. The movie, which was filmed in The Bahamas off the coast of New Providence, features four hot young divers - including Jessica Alba and Paul Walker - who find sunken treasure in the Bahamas. Unfortunately, it's right next to a plane full of illegal cargo.
Into the Blue is a high-stakes thriller set in the deep, shark-infested waters of the Bahamas. When young divers discover the wreckage of a cargo plane at the bottom of the sea, they believe their dream of buried treasure has come true. What they don't realize is that millions of dollars of illegal goods are in that sunken plane and a group of dangerous criminals are already desperately searching for it. As tensions mount and the friends begin to fight about what to do with their find, others get closer to discovering their secret - and the treasure hunters quickly become the hunted.
Into the Blue comes to theatres on September 30th.
Treasure doesn't always mean gold bullion, coins and precious stones. A large proportion of the thousands of ships that have come to grief on their way through The Bahamas carried very little precious cargo. Their hulks - even if split and splintered by the tides and storms of centuries - still contain objects of value to treasure hunters and historians: guns of bronze and iron, navigating instruments, ships' tackle, buttons, coins, bottles, pipes or items of cargo carried for trade.
Of course, most of the treasure troves have already been discovered, but experts say there are probably some big troves still lying on the ocean floor. And there are still some occasional surprises. The hurricanes that hit Grand Bahama, last year, unearthed an old ship that was found by a couple of young Bahamians days after the winds subsided.
Whether future finds unearth gold and silver or merely rusty cutlasses, ballast and adventure, the Bahama Islands are a treasure yet to be fully discovered.
---
Bahamas Vacation Concierge

- Let us assist you in planning your Bahamas vacation by providing you with recommendations, contact info and links for the best hotel deals, vacation activities, restaurants, things to see and other vacation resources for all islands of the Bahamas.
Select a Bahamas Vacation & Travel Guide
Bahamas-Travel.info, the place to go before a Bahamas vacation.
Find plenty more information to plan your Bahamas vacation by selecting one of our thirty different resource guides with directory listings, maps & photos. There are island destination and hotel guides for Nassau, Paradise Island, New Providence, Grand Bahama Island, Freeport / Lucaya plus the Out Islands; including Harbour Island, Abaco, Andros, Exuma, Long Island, Eleuthera, Cat Island, Bimini, Acklins, Spanish Wells, Mayaguana, Crooked Island, the Berry Islands plus San Salvador.
Bahamas-Travel Newsletter
Subscribe to the Bahamas-Travel newsletter. FREE monthly e-Newsletter filled with tourist news, travel information, plus feature articles relating to travel & vacations, with special travel packages, tourist tips and vacation deals.


Vacation Survey
Our vacation survey is fast, fun & easy and allows us to tailor the content of our Website to meet your vacation travel needs.

---