Things to Consider when Renting a Vacation Home in The Bahamas
Recreational opportunities: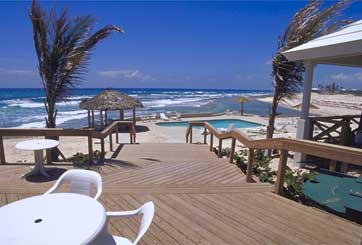 There has to be lots of stuff to do beyond shopping, which is why most Bahamas vacation rentals are close to the best fishing and diving locations, beaches or casinos. Some cultural activities -- special events like the Bahamas International Film Festival, art galleries or sailing regattas -- are also nice.

Decent weather:
Fortunately, the Bahamas has nearly perfect weather year-round, allowing you to get outside to enjoy all the fun that your Bahamas vacation rental destination offers!

Proximity to urban centers:
Vacation rentals typically need to be within a one to three-hour drive (or boat ride) of a major city, or at least reasonably close to an airport.

Several rental locations within the Bahamas meet all these criteria. With its crystal clear water, 5 million visitors annually and a variety of activities, sure to please any vacationer's interest, The Bahamas is consistently listed as one of the nation's best island vacation destinations.
Vacation Rental Links
Bahamas Vacation Rentals - Bahamas vacation rentals directory of rental listings in Abaco, Andros, Bimini, Crooked Island, Exuma, Inagua, Mayaguana, Paradise Island, Acklins, Berry Islands, Cat Island, Eleuthera, Grand Bahama, Long Island, Nassau and San Salvador.

Sable Rose Vacation Rental - Sable Rose is a Bahamas vacation rental cottage, in Eleuthera, located ON a deserted beach, in a very private, rural setting. It is close to a few offshore islands, and many reefs, good for diving, fishing, and boating.

Coconut Tree House Rentals - For Your Corporate & Vacation Home Rental Needs. Specializing in short term home rentals in the Bahamas.

Out Island Wedding, Ltd - A service that performs wedding ceremonies in Eleuthera, as well as providing a vacation rental home on a deserted beach for the honeymoon.
Bahamas island information and maps available from the Bahamas Vacation Travel Home Page.