Enjoy your Bahamas Vacation!
| | |
| --- | --- |
| | More than five million travelers each year choose the islands as their prime destination for outdoor activities, sun worship, casino gambling and, on some of the slightly more remote spots, eco-tourism. |
In total, the Bahamas include around seven hundred islands, no more than thirty of which are inhabited, as well as smaller cays (pronounced "keys") and rocks - an impressive arc stretching from just beyond the Atlantic coast of Florida to the outlying waters of Cuba, where Great Inagua lies only sixty miles offshore. Although deeper oceanic troughs surround some of the islands, most are encircled by shallow, crystalline water that reflects a light turquoise hue during the day and glows with purple luminescence at night. This combination of shallow and deep water makes diving and snorkeling both challenging and intriguing, with numerous reefs waiting to be explored just beyond the shores of the gorgeous, often deserted beaches.
Getting Around
In general, travelling around the Bahamas is a breeze. The islands are well linked by inter-island flights as well as boats and ferries , while on the islands themselves taxi and bus service is generally excellent.
By plane
Inter-island transportation is usually done by air, especially on the national carrier Bahamasair (tel 242/377-5505 or 1-800/222-4262), which flies regular routes between Nassau and the Out Islands, while smaller, Nassau-based carriers offer air charter services to the Out Islands and other destinations. Many hotels and resorts have their own charter services to bring passengers from Florida and elsewhere.
By boat
The traditional way of exploring the Bahamas is by ferry or mail boat , the latter a form of transit still favoured by locals. The Bahamas government operates nineteen mail boats, which also carry cargo and passengers between Nassau and all the Out Islands - trips that can vary from a few hours to most of a day. Call the dockmaster on Potter's Cay, Nassau (tel 242/393-1064) for details and schedules.
The very efficient Bahamas Fast Ferry (tel 242/323-2166) runs from Nassau to Harbour Island and Central Eleuthera, while the equally speedy Bahamas SeaRoad/ SeaLink (tel 242/323-2166) connects Nassau with Eleuthera and Andros. Individual boat rental is also a good option for inter-island transit, with many marinas featuring choice spots for anchorage.
By taxis and bus
Once on an island, taxis are abundant, especially on New Providence and Grand Bahama, while larger islands like Abaco and Eleuthera offer efficient taxi service in major tourist zones. What's more, most airports in the Out Islands (except some to the far south) draw at least a few taxis to meet every flight. Taxis on New Providence and Grand Bahama are metered, but it's wise to establish a set fare before heading out. (Many taxis can be hired for an hourly rate of US$45.) Out Island taxis, except in Marsh Harbour on Abaco, are rarely metered, and are usually hired for long-distance hauls between resorts. Again, it's always a good idea to establish the fare in advance.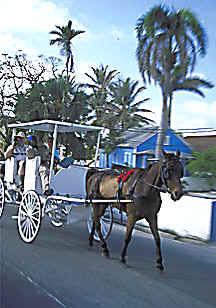 Bus service in Nassau is generally excellent, with jitneys serving most of the city as well as the outlying regions of New Providence for the same low fare.
Guests at resort hotels may find renting bicycles a convenient and inexpensive way to explore some islands, with motor scooters and motorcycles for longer trips a possibility. Large resorts often rent guests golf carts to drive around the grounds, and where cays or towns prohibit motor vehicles - such as Treasure Cay and Hope Town on Abaco - golf carts are the vehicle of choice.
By car
Most major hotels offer car transport for their guests upon arrival at the airport, and almost all the major car rental agencies are found on New Providence and Grand Bahama, including Alamo, Avis, Budget, Dollar and Hertz . Nassau and Freeport are home to many local agencies that rent older cars for lower rates, though rarely with the added convenience of toll-free reservation services. Many Out Islands either lack car-rental agencies altogether or only have a few older, less reliable vehicles at expensive rates. In any case, rental cars are hardly needed on the smaller, more remote islands.
Visitors who drive in the Bahamas must have a valid driver's license and liability insurance, and must take care to stay on the left.
When To Go
The southern Atlantic high-pressure system and constant trade winds make Bahamian weather consistent throughout the year, with temperatures averaging 24ºC (75ºF) during the dry winter season from December to May, and 5-8 degrees warmer in the summer rainy season. Just as a steady cooling breeze moderates the hottest hours of the day, nights in the Bahamas are temperate and, in the northern islands, even cool. Late summer and fall comprise hurricane season, delivering the occasional menacing tempest as well as less destructive tropical storms. Luckily, the Bahamas are rarely in the direct paths of hurricanes, which usually bypass the islands to the south before hitting mainland North America directly.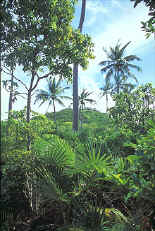 Predictably, winter travel is a major draw, with December-to-May prices as much as 25 percent higher than during the rest of the year. Late spring and early summer travel are popular with bargain hunters, divers, and anglers and sailors drawn by the summer round of fishing tournaments and regattas. Traveling during the Christmas holiday season can be bustling and wearisome, with tourists thick on the ground and many locals taking trips to the North American mainland. Likewise, college students often crowd the major resorts during Spring Break in February and March, while other travelers escape to the Bahamas during late summer and autumn to enjoy a respite in that relatively tranquil period, the odd hurricane notwithstanding.
Where To Go
The islands' most popular destinations are New Providence - site of the capital Nassau - nearby Paradise Island , and Grand Bahama and its vacation towns of Freeport and Lucaya . Both New Providence, with its Cable Beach and South Beach resort areas, and Grand Bahama offer glamorous accommodations, enticing nightlife, fine restaurants and shopping and, of course, great beaches.
Some travellers, however, may prefer the quiet, remote charms of one of the so-called Out Islands such as Abaco, Andros , the Exumas or Cat Island , where the accommodations are more rustic and the beaches and reefs virtually deserted. Offering savings of 30-50 percent below international retail prices, duty-free shopping is a popular way to find bargains for jewellery, perfume, watches, china, crystal and liquor, with the tourist zones of Nassau and Freeport providing particularly good buying opportunities.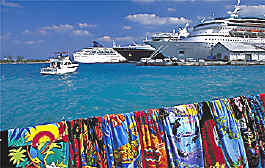 Nassau's Bay Street is famous for its Straw Market , offering a wide array of mats, baskets, hats, dresses, T-shirts and hand-crafted items at bargain prices. While many items at the market are cheap imports, others may be genuine, so a close inspection of the merchandise is usually worthwhile. As one of the better shops, Nassau's Plait Lady (tel 242/356-5584) guarantees its items are 100 percent Bahamian-made. While Straw Market purchases are subject to negotiation, bargaining is not a typical Bahamian custom.
The Bahamas are also known for their Androsian batik fabrics made by a small operation in Andros Town on a remote Out Island. Although the factory is fascinating to visit, batik items are available at many outlets in Nassau, Freeport and major Out Islands like Abaco and Eleuthera.
Cigars and local art are often worthwhile purchases as well, with Bahamian painters, water-colourists, woodcarvers and jewellers creating original works for sale in galleries throughout Nassau and Freeport.
Phones, Post & E-mail
Batelco is the national telephone company of the Bahamas, and it maintains excellent phone service for all but the most isolated islands. Public phones are available in all tourist areas, though some Out Islands phones may be out of service for long periods. Long-distance calls may be made from public phones by using phone cards or through the local long-distance operator.

Postal service to and from the Bahamas is fairly reliable. Postcards from the islands to North America, Europe and South America require a 50-cent stamp, while airmail letters cost 65 cents per half-ounce.

Modem connections and email are a still-developing feature of most Bahamian telephone networks, so it's worth checking availability in advance with your hotel or resort.

The country code for the Bahamas is 242.
Getting There
The major international airports of the Bahamas are located in Nassau and Freeport , and are usually reached via connecting flights from North American cities. Although a few carriers offer flights from Miami or Fort Lauderdale to Out Island airports, and some hotels offer charter connections to the island's resorts, most Out Island travellers fly through Nassau, or take ferries and boats to the more remote destinations.

The national carrier is Bahamasair (tel 242/377-5505 or 1-800/222-4262), which offers several daily flights to Nassau and Freeport from Miami, Orlando and Fort Lauderdale, as well as numerous flights from Nassau to Out Island destinations on Andros, Cat Island, Abaco and other islands. Some smaller carriers fly inter-island routes (usually originating in Nassau), including Congo Air, Taino Air Service, Sandpiper Air and Cleare Air .

From mainland North America , several American and Canadian carriers fly to Nassau or Freeport from hub cities, or connect to the islands through Miami. Continental-Gulfstream (tel 1-800/525 0280), Delta and US Airways offer flights to Nassau, Eleuthera, Treasure Cay, Paradise Island and other locations. Air Canada has direct connections to Nassau from Toronto and Montreal, and many other flights to the Bahamas via US hubs. American Airlines' regional carrier American Eagle serves Nassau from Miami with regular daily flights, while smaller carriers typically fly a Florida-to-Bahamas route and include Pan Am Air Bridges, Lynx Air International, Twin Air and Chalks International .

From the UK , the major carrier is British Airways , offering direct flights to Nassau at least twice weekly from London Gatwick, while British West Indian Airways, Virgin Atlantic, Bahamasair and Caledonian also offer competitive fares for flights to Nassau through Miami. Similarly, other European travellers most often connect to the Bahamas via Miami.

Cruise lines such as Disney, Carnival and American Canadian Caribbean make calls at Prince George Wharf in Nassau, where visitors can enjoy the city's colonial centre and do some shopping, though most ships only dock there for a day or two.
About The Bahamas
Bahamas Customs
Bahamas Immigration
Bahamas Medical
Bahamas Travel FAQs
Bahamas Travel Tips
Bahamas Visa Info
Bahamas Visitors Guide
Bahamas Weather
Bahamas-Florida Ferry