Nassau: Bahamas' Vacation Playground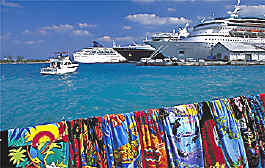 Prized for its safe harbour, Nassau Bahamas made history which has been preserved nicely in Victorian mansions displaying elegant noble architecture, cathedrals, weather-beaten 18th-century forts and a hand-carved Queen's Staircase, whose 66 steps lead to a view of the island not to be missed.

Vacationers know Nassau as a vacation playground of fine white-sand beaches and exciting nightlife.

International business persons know Nassau Bahamas as a financial center and a starting point for global business.

Natives know their city as a friendly little place where you pretty much know everyone, where the local spelling bee winner still makes the Nassau Bahamas newspaper front page.
Nassau Bahamas Weather
Weather in Nassau Bahamas is almost always warm and sunny. Soft-sand beaches washed by clear turquoise-colored water surround the island of New Providence. Waving palm trees and bright red & pink hibiscus thrive in Nassau's year-round mild climate and warm weather.
Hotels in Nassau Bahamas
Luxury and modest hotels, world class resorts, vacation rentals and guest houses provide a variety of accommodations satisfying every type of visitor. Plus, the choice of activities is equally diversified.
Locate Nassau Bahamas hotels using the Bahamas Hotel Guide.
Activities, Things To-Do in Nassau
From casinos, cabaret shows, magic acts & acrobatics to moonlight dinner cruises or theatre performances, there are more options for nightlife in Nassau and Paradise Island than there are hours in the day to experience them all.
Scoot around the island on a rented motor scooter, rental car or bicycle (be sure to drive on the left-hand side of the road, British style); or cruise out to spend the day scuba diving or snorkeling the coral reefs; go fishing for dolphin, tuna or wahoo; play tennis or golf; take an Out Island excursion or just lay back to snooze in the sun.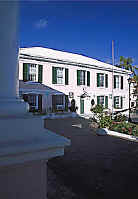 Visit the historic forts or shop for bargains along Bay Street, Nassau's famous international shopping location. Liquor, perfume, jewelry and china are favorite items for duty-free shoppers, along with fine local and international crafts plus native goods, from handmade yards of batik to fine jewelry & Rolex watches. The best buys and shopping bargains can be found among the straw craft items and souvenirs at the Straw Market.

The stores on Bay Street are flanked by picturesque, pastel pink-colored Colonial-style Government buildings erected in the early 1800s by Loyalists, including the Houses of Parliament, the old Colonial Secretary's Office and the Supreme Court all surrounding a marble statue of Queen Victoria.

Parliament Square in downtown Nassau Bahamas is the traditional center of Bahamian government. Each season, the Opening Ceremonies of the Supreme Court fill the square with pomp and pageantry. Further downtown stands Fort Charlotte. Built in 1788, it is complete with moat, open battlements, even dungeons.
Find things to-do in Nassau Bahamas on the Bahamas Activities page.
Nassau's Sister Island - Paradise Island
Venture east on Bay Street from the city's core and you come to a bridge that takes you to "Paradise," with posh luxury resorts (including the world famous Atlantis Bahamas Resort), the Caribbean's largest casino, plus exciting nightlife on an island formerly called "Hog."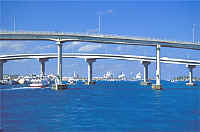 The bridges (there are actually two - one for coming and one for going) can be walked but most people cab over. Speedy boat taxis are also available which connect with dockside limo services on both islands.
As you go east, just past the bridge to Paradise Island, there is the boating heart of Nassau / Paradise Island with a number of marinas with boats for hire. The East End is also a delightful residential area showing the full flavor of Nassau's colonial past in its architecture & horticulture. Big houses with wide breezy verandas face the sea.
Map of Nassau/New Providence Bahamas
West of Nassau - Cable Beach
Heading in the other direction you will discover Cable Beach, the Bahamian Riviera, with its luxury hotels, casinos and world famous beachfront. Cable Beach got its name in 1907 from the laying here of transatlantic telephone cables linking what was an isolated Bahamas to the rest of the world. But these days, the world comes to The Bahamas to see what it has been missing.

For those who prefer a quieter, more serene island experience, it can be found even farther west. Once you leave the downtown area, the pace is slower. For example, the section of West Bay Street that leads to Cable Beach is nicknamed "Go Slow Bend." Beyond Cable Beach, the island's environment is transformed. Large tracts of pine trees dominate the central-west portions of New Providence, with the island's perimeter marked by miles of fine white sand beaches.

The Coral Harbour development, on the southern side of New Providence island, is a quiet, opulent community in a palm-clad setting. Its winding canals offer easy access to the sea. West of Coral Harbour, there is Adelaide, a tiny village with narrow streets. It was one of the first Black settlements established after the abolition of slavery. The area is a lovely, secluded spot for activities such as fishing or swimming. At the tip of New Providence, there is Lyford Cay, an exclusive residential enclave.

There is certainly no shortage of restaurants and lounges either. Enjoy almost any type of international cuisine or experience native recipes that will wake up your taste buds like never before. Conch fritters, grouper fingers, peas 'n' rice, boiled fish, johnnycake plus guava duff are just a few of the tasty dishes, all of which go "just right" with a tropical drink in your hand.
Bahamas Vacation Travel Guides