Browse the Bahamas hotel guide, on Bahamas-Travel.info, for hospitality and hotel information. Locate the most comfortable hotel and resort accommodations for all islands of The Bahamas. Compare hotel prices, find travel discounts and deals on popular Bahamas luxury resorts and hotels.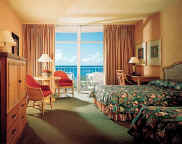 Most hotels in The Bahamas front acres of white sandy beaches and turquoise ocean.
Enjoy your vacation at a Bahamas hotel on one of the best beaches in the world.
Nassau / New Providence, Bahamas hotel accommodations are situated in three main areas - Cable Beach (The Bahamian Riviera), Downtown Nassau & Paradise Island.
Freeport, on the island of Grand Bahama, offers a wide variety of excellent hotel accommodations and there are small Bahamas hotels alongside numerous resorts dotted amongst the out islands, known as the Family Islands.
Search Hotels
Find the Best Bahamas Hotels - Use our convenient hotel search to find and book reservations at hotels for all islands of The Bahamas.
Nassau / New Providence Hotel Listings - select among a wide variety of Nassau and New Providence hotels.
Freeport / Grand Bahama Hotel Directory - choose from a comprehensive listings of hotels in Freeport and Grand Bahama island.
Abaco Bahamas Hotel Directory - find a true island getaway among a complete listing of hotels in Abaco.
Bahamas Hotel Reviews
If you have visited a hotel in The Bahamas, please write a review of the hotel you stayed at. Or, read hotel reviews from other travelers just like yourself.
Bahamas hotel reviews are part of the Bahamas Vacation Travel Reviews.
Cable Beach: The Bahamian Riviera:
The rainbow-colored Wyndham Nassau Resort & Crystal Palace Casino, features a huge casino, a sports book and the famous Rainforest Theatre. The twelve restaurants and lounges will meet your every culinary expectation; seafood, Caribbean, oriental or steaks.

The Sheraton Cable Beach Bahamas Resort offers everything from a championship golf course to exceptional dining in six restaurants and a superb fitness centre.

For other all-inclusive Bahamas hotel options, SuperClubs Breezes Hotel offers a variety of entertainment, guest activities and beach attractions, exclusively for their guests. Right next door is the Nassau Beach Hotel, boasting fine restaurants, tennis and the ever glorious beach. For the lover of small more intimate Bahamas hotels, further west along "the strip", Nettie's Different of Nassau fits the bill.



Bahamas-Travel.info, the first place to go for Bahamas vacations.

Find information on the islands, plus activities near each of the hotels you are comparing, by selecting one of our thirty different vacation guides featuring directory listings, maps and photos.

Explore island destination and hotel guides for Nassau, Paradise Island, New Providence, Grand Bahama Island, Freeport / Lucaya and the Out Islands; including Harbour Island, Abaco, Acklins, Andros, Exuma, Long Island, Eleuthera, Spanish Wells, Mayaguana, Cat Island, Bimini, Crooked Island, San Salvador and the Berry Islands.
Bahamas-Travel & Vacation Newsletter
Receive tourist news and information with Bahamas hotel specials and packages, travel tips, Bahamian recipes, vacation deals plus other Bahamas vacation info by subscribing to the Bahamas-Travel newsletter, a FREE monthly e-Newsletter.

More vacation and travel information is available on BahamasB2B.com

Bahamas Vacations
Bahamas Islands
Featured Bahamas Hotels
A Stone's Throw Away
British Colonial Hilton
Compass Point Beach Club
Peace and Plenty
Romora Bay Club
Small Hope Bay Lodge
Abaco
Andros
Bimini
Eleuthera
The Exumas
Family Island
Grand Bahama
Long Island
Nassau Bahamas
Paradise Island